Austin Cost of Living
Austin is a city that people are talking about. It has made its way to the top of most "Best Of" lists in the past few years. We are environmentally friendly, well educated, and have moved from "Texas capital and college town" to a city that boasts the best of many categories – including cost of living for a city our size.
According to PayScale and its Living Calculator, Austin is a city that you can come to build a career. We are quickly becoming associated as a city that has technology, healthcare and there is even rumor that a "mini-Hollywood" is being built here.
Austin's Technology Sector
Regarding the technology sector, Austin is home to, or has campuses for, Dell, Google, Hewlett-Packard, Apple, eBay, and Samsung. While the city boasts a low-cost of living, our median salary for IT professionals (and other professional sectors) is competitive.
National Average Comparison
Comparatively speaking, Austin's cost of living is less than 3% of the national cost of living average. And since we are in real estate, and this blog is a real estate blog, we are immensely pleased to report that the Austin housing market is 15% less than the national average. Other large and growing cities are well over the nation's average housing cost. Why is that? Housing costs and mortgage rates vary regionally as well as city by city due to local mortgage rates. So if you are moving to Austin, feel free to contact us and we can put you in touch with some local mortgage bankers to determine the best rate for you.
As you can see from the chart below, overall, Austin ranges anywhere from 2% - 14% less than the national average cost, depending on the category you are comparing.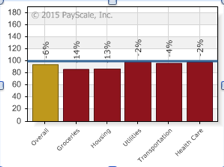 Major City Cost of Living Comparison
Additionally, if you compare the cost of living in Austin to other major cities like Phoenix, Dallas or Miami, we still offer the best cost of living.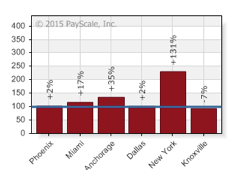 So between the housing market, the weather, the people, the culture and the cost of living, why would you choose anywhere else to live? If you have the choice, choose Austin.
If you are relocating to our area and we can assist you in any way, please feel free to contact us.