Slip-n-Slide
Posted by Susan Arant on Friday, August 1, 2014 at 9:22 AM
By Susan Arant / August 1, 2014
Comment
Slide Into the 2014 Steiner Ranch Concert in the Park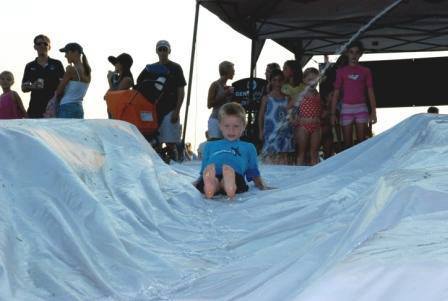 When we were kids, we didn't have a pool in our backyard to swim. Instead we would run in the sprinkler or play with a hose. Our most cherished cool-down activity was to commandeer a few plastic shower curtains, line them up in the yard, being sure to clear the path of rocks, squirt some liquid soap on it and add a hose. You can see where we are going with this can't you? After a good running start through the lawn, we would "superman" across the slide, belly-laughing the length of the slide until we hit the grass. Sliding would only take a few seconds yet we spent hours running back and forth, taking turns until the plastic would tear through, worn with holes.
The point is – sheets of plastic + dish soap + water = fun for kids of all ages. Some things never change; no matter how old we are, water slides still make us smile. Which is why every year, we pull out our favorite heavy duty sheet of plastic – about a hundred or so yards of fun – lay it on a gentle slope in Town Square Park, pour on the soap and invite friends and neighbors to "slip and slide" with us. While admittedly, there aren't too many adults "brave" enough to take the "plunge," there are plenty of kids!
This has become one of our favorite traditions. We will again bust out the slide on August 16th. You will see us setting up the hay bales and anchoring down the plastic sheet well before the Steiner Ranch Concert in the Park begins. Feel free to stop in and say hello! We look forward to seeing you and the kids. Bring some clothes that can get wet and a smile. Sliding begins at 6pm and ends at 10pm. We can't wait to see you there!