Austin Economy
Posted by Gene Arant on Tuesday, May 31, 2016 at 4:34 PM
By Gene Arant / May 31, 2016
Comment
Take a Look at Austin
Whether you live in Austin or are planning to relocate, the economy is strong enough to handle the influx of people moving here. This fast growing metropolis added 43,400 new jobs in the past year.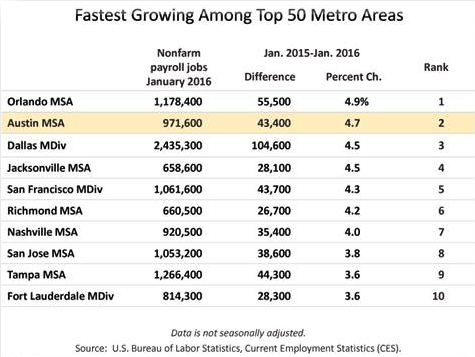 Numbers Surpass Initial Predictions
Austin is officially the second fastest growing city in the United States. Preliminary indicators had suggested that job growth would be approximately 3.3% however; actual numbers were 4.7%, making Austin the second most robust city amongst the 50 largest metro areas. (Dallas ranked third in the U.S.) Texas' other three major metros grew at lesser rates: San Antonio by 2.9%, Forth Worth by .9% and Houston by .6%.
With 41,400 new jobs, the private sector saw growth in all private industry jobs. The leisure and hospitality industry grew by 9,800 jobs over the last 12 months. Construction and natural resources grew the fastest with 5,800 jobs. Additionally, the wholesale industry added 4,800 jobs; the professional and business services added 9,100 jobs and the government sector, which accounts for nearly 18% of all jobs, saw modest growth, gaining approximately 2,000 jobs.
Low Unemployment Rates
Unemployment in Austin is at a low 3.2% which is a slight decrease from the previous year of 3.3%. Within Austin, Travis County (home to Steiner Ranch) boasts the lowest unemployment rate at 3.1%. (Unemployment Rate) Other major cities in Texas have also improved unemployment rates: Dallas at 3.7%, San Antonio with 3.7% and Fort Worth with 4.0%. Houston's unemployment levels increased slightly to 4.8% however all Texas' major metro areas are below the U.S. unemployment rate of 5.2%.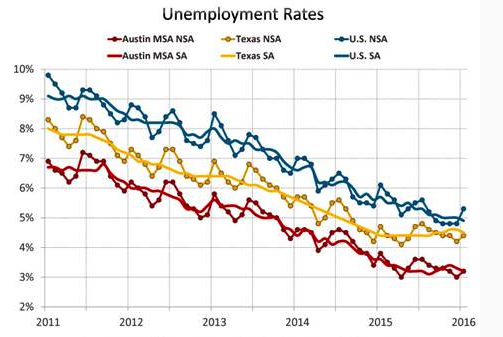 As you can see, no matter what industry you are in, Austin is a city with plenty of growth opportunity. If you are in the market to relocate, Austin is a great place to live. Not sure what part of Austin suits you? The Gene Arant Team can help. We can find the right home for your family. Give us a call at 512.261.1000 or contact us.
*All information has been received from downloadable data files from the Austin Chamber of Commerce on the Economic Indicators page.