Black Friday Gets a Digital Makeover
Posted by Susan Arant on Tuesday, November 10, 2020 at 2:17 PM
By Susan Arant / November 10, 2020
Comment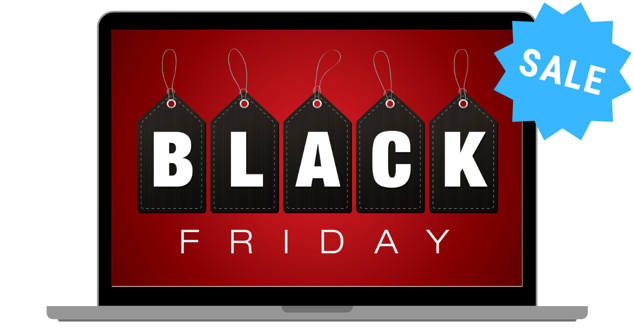 Halloween may have passed but we aren't yet rid of monsters this holiday season. Most of us enjoy showering our loved ones with gifts during the holidays and take advantage of Black Friday deals to make that happen. Right now you may be wondering what your options are this year to snag that air fryer your spouse hasn't stopped talking about. Clearly crowds won't be breaking down storefront doors but don't fret just yet, retailers won't let COVID be the Grinch of holiday savings in 2020.
While the world has been battling job loss and financial uncertainty, it's no wonder the retail industry has had a difficult year. Plagued by supply-chain issues, worker-safety concerns, and shipping delays, some sectors have faced impossible-to-meet demand while most have starved over record low sales. Forty retail companies, and counting, have filed for bankruptcy in 2020, leaving those remaining hungry for your support! Anxious to capitalize on the roughly $729 billion spent in 2019 from Thanksgiving to Cyber Monday, wholesalers have wiped their previous Black Friday strategies clean and prepared all new safe shopping experiences for you! So update your Wi-Fi and grab your laptop because retailers, the CDC, and your loved ones are all encouraging you shop your deals online this November.
Online deals include:
Amazon's Holiday Dash sales are live now through November 19 when their Black Friday deals will take over.
Best Buy deals are in full swing offering discounts on TVs, laptops, Apple products, major appliances, and more. Shoppers who sign up for the retailer's free My Best Buy loyalty program will get early access to thousands of additional early Black Friday deals November 16 and 17.
Walmart is hosting a whopping three early sale events before Black Friday. The first kicked off November 4 on Walmart.com, with additional deals added November 7 online and in stores. The second sale begins online November 11 at 7 p.m. EST, with more deals available online and in stores on November 14. The final event begins online November 25 before proceeding with additional deals online and in store November 27.
Target is adding deals each week and has extended the 14-day Price Match Guarantee so if you purchase something that drops in price, you can request a price adjustment through December 24.
Lowes is rolling out one-day, online-only sales, dubbed "Cyber Steals," each day from now through December 2.
Home Depot is running Black Friday deals through December 2.
Macy's will offer their deals beginning November 16 through the 28.
Costco launched its Holiday Savings event on November 5, featuring early Black Friday-level pricing for members both in-store and online.
Nordstrom is waiting to announce their deals till actual Black Friday (27th).
But what about all those loyal in-store shoppers who need to see and feel an item before they buy? You are not left in the dust! In addition to the COVID safety measures we already see in brick-and-mortar stores such as plexiglass barriers and hand sanitizing stations, local businesses are offering appointments to limit the amount of physical shoppers, emphasizing curbside pickup and delivery, and some are even setting up a virtual queuing system so you can pick out your favorite items before you hit the stores. Speaking of shopping locally, smaller businesses don't enjoy the same resources as major brands so be conscious of where you spend your money during these trying times.
If you somehow manage to get off the couch after Thanksgiving dinner and venture off to the to the mall for early shopping, wear your stretchy pants this year because you'll have more time for dessert! To keep you safe, many stores will not open on Thanksgiving Day including Best Buy, Target, and Walmart so make sure you check store hours online.
Flatscreens, robot vacuums, gaming consoles, new appliances, kitchenware, tools, smart devices, trendy toys…. all of your most wanted holiday gifts are still within reach. As long as you keep up with your favorite stores and allow for plenty of shipping time, you'll score some huge Black Friday deals this year! So spoil yourself, spoil your family, and spoil your coworkers because everyone has earned a little extra holiday cheer. Well, what are you waiting for? Start shopping now!