Home Smart
Posted by Susan Arant on Tuesday, July 22, 2014 at 3:30 PM
By Susan Arant / July 22, 2014
Comment
As a follow up to our "Smart Home" article that appeared in the Four Points Newspaper, here are a few products a DIY homeowner can consider for home automation projects. Many of these products have received positive reviews and allow multiple options to consider when you want to install new home technology yourself.
WeMo Switch by Belkin – we find this toggle light switch to be sleek and attractive and this highly rated product has recently introduced a new and improved application. The app is free and the switches run about $49.99.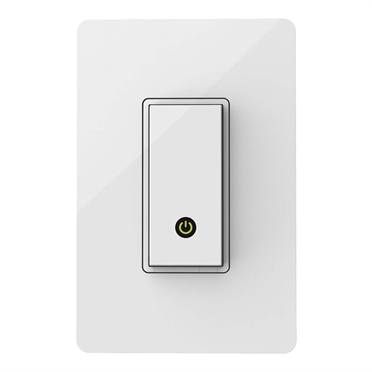 Some of its cooler features include sunrise/sunset mode, away mode settings and a more customizable program to control particular lights at various times. The WeMo uses the Wi-Fi to turn lights on and off from anywhere in the world. You simply replace your existing light switches with the WeMo switch – there is a step by step video on their website.

If you are not comfortable installing the WeMo, contact an electrician. If you are going to hire a professional for installation, we recommend having several switches ready for multiple rooms.
WeMo also offers a variety of products from plugs, to light bulbs, to motion detectors and light switches. All of their products have been designed to work together.
The WeMo Smart platform works with The Jarden Corporation who has brought an array of connected home products to market this year. You can purchase Jarden appliances with the WeMo technology built into them. Products include Crock-Pot Slow Cookers, Holmes Console Heaters ($169.99-$229.99), Holmes Air Purifiers (($169.99) Holmes Humidifiers ($199.99), and our favorite, the Mr. Coffee Coffeemaker (coming soon). With these products, you can control your homes heat (not in as much demand here in Texas as an AC controlled unit, read on to learn more about the Nest); learn when it is time to replace your filter on your air purifier or when to refill your water tank on your humidifier.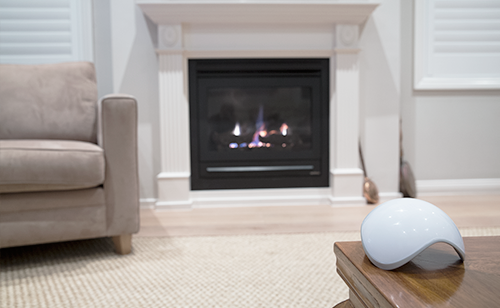 The Ninja Sphere a very cool device that allows you to control a wide range of devices from different companies, including its own range of products. Ninja offers Smart Sockets, Smart Tags and soon Smart Bulbs. These bulbs will be able to change from blue to white light depending on the type of day – totally adaptable!
What is a Smart Tag? It is a device that is attached to individual items that are valuable to you. Have an antique painting or a hi-end TV – tag it with this device and Ninja will notify you if the device is moved. Pretty cool!
The Sphere is pretty enough to sit on your coffee table and is controllable through both hand gestures and a downloadable app. Ninja works with hue wireless lighting, fitbit, LIFX, pebble, Parrot, nest, sonos and others. The coolest part of Ninja Sphere is that it is written in open source so future devices can easily be added. This will keep the system updatable and not made obsolete when newer products hit the market.
The Ninja Sphere is funded by KickStarter and is currently taking pre-orders. The Sphere will come with a free Smart Tag and is priced at $329. Smart Sockets are $55 a piece.
Another KickStarter product is the Lumen Smart Bulb.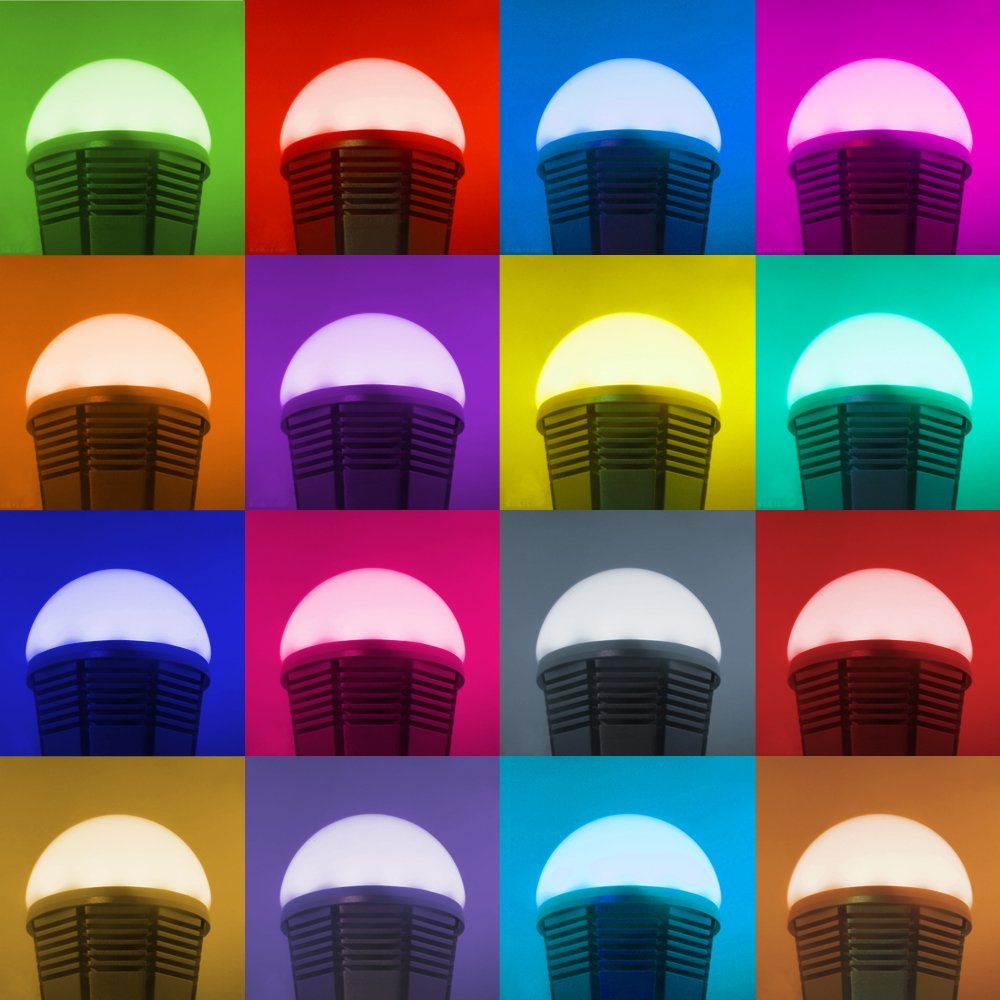 It is a Bluetooth LED smart light bulb that gives homeowners the ability to control their home lighting. Using a free Smart Phone downloadable app, you can control the color of your bulb, from warm white, cool white to red or blue. The bulb is said to have 16 million color shades and all you have to do is screw the bulb into a lamp then download the app. It is truly that simple – each bulb works with the app on your SmartPhone or tablet. (check out Lumen's YouTube video.)
Lumen currently has five light bulb types for lamps, ceiling fixtures, chandeliers, wall sconces and recessed can lights. Lumen LED color strips are coming soon. The bulbs can be purchased on Amazon for about $49 per bulb. (Another comparable lighting solution is the LIFX light bulb.)

There is also the Philips Hue Lightbulb Starter Pack that you can be purchase at Apple Store or Amazon for about $199.99. This pack is similar in concept to the Lumen Smart Bulb, however it requires a device that will act as the "brains" and is called the bridge. One bridge can control up to 50 different lights. The starter pack includes the bridge and three light bulbs. Lights are then controlled using your smartphone or tablet and was named "Forbes product of the year" in 2012.
Nest is a smart thermostat that learns that patterns and behaviors of your home. It detects, through a sensor, when you are home or away and sets the temperature of your home accordingly. It allows you to remotely control the temperature of your home to save money and allow your home to run its AC/Heater more efficiently. The Nest can also work with your energy company to receive alerts about peak hours. With Nests' newest technology "Works with Nest" it communicates with your other devices like your Whirlpool washer/dryer, Mercedes automobile, LIFX smart light bulbs and Jawbone fitness wristband.
Nest also offers a sister product – the Nest Protect,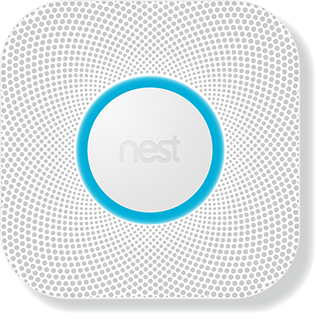 a very cool smoke detector and CarbonMonoxide Alarm. This attractive looking alarm is not only stylish it is highly effective. The alarm has a light that senses when you are near so it illuminates your path at night. The Nest Protect uses a voice to alert you to the danger of smoke or CO. The Protect actually warns you if senses a problem or if it is an emergency and you need to evacuate immediately. Nest Protect also sends text alerts so you have piece of mind, even away from home. It also has sensors to monitor its battery supply, thus eliminating the annoying 2am low-battery alarm that wakes everyone in the house. This is a very cool product!
Ubi is another cool little gadget that gets smarter as you use it. It is a "box" that plugs into your electrical outlet that is voice controlled and works with the Internet. Think of it like a "Siri" for your home. It uses your Wi-Fi, two microphones, a speaker and lights to interact with you and the web. You tell it what to do, it responds. You can send texts, email messages, check the weather and with other smart home devices, you can control your homes environment with voice command. Want to be the first to have a new Ubi? Join Beta Ubi (the program allows up to 5,000 select participants) and you get to Beta test this new gadget before the rest of the world. If selected, the cost is approximately $299.)
SmartHome is a bit more for the advanced technology lover. This website pretty much allows you to automate your entire house. You have to purchase a central system first that allows you to connect the rest of your add-on pieces. You can control front door locks, intercoms, speakers, solar panels, intercoms, security cameras, timers, garage doors, etc. You choose the area of your home you would like to control and you can shop for those products. Or, shop via room - you choose. Once your hub is installed, the possibilities are endless. Again, this product is for the more tech savvy. If this sounds like the type of inclusive home automation support you are looking for, you also can look into the SmartThings product line.
As you can see, there are many home automation possibilities with more on the horizon. The technology is becoming simpler for us DIY'ers to install. Whether you start simple with a smart light bulb or thermostat, we bet you will soon be hooked on the benefits and will want to do more to automate your smart home!