Lighten Up - With Table Lamps
Posted by Susan Arant on Tuesday, June 24, 2014 at 8:03 PM
By Susan Arant / June 24, 2014
Comment
There is so much that can be written about lighting. It is an essential element in creating the mood of our home yet too often, people are left "in the dark" when choosing their lighting.
In the previous article, Lighten Up, which appeared in the Four Point Newspaper, the topic of "layering your lighting" was discussed. It provided an overview of the three types of lighting - ambient, task and accent lighting. Most of us have ambient lighting and with the help of our previous article, you have learned how to enhance your ambient lighting. This article helps you understand how to create and place task lighting - more specifically, table lamps.
Table lamps are a simple way to provide functional elements while adding stylish design to your home. Think of table lamps as the jewelry or accessories of your room. These lamps should be considered "eye-candy" – you should like the way the lamp looks whether it is on or off.
When selecting lamps there are three basic factors to consider: height and size, balance and shade design.

Height and Size:
- A lampshade should be ½ to ¾ the size of the lamp base
- The diameter of the lampshade should be twice the size of the base.
- The bottom of the lampshade should be between eye level and chin level when you are seated.
- Make sure that the shade hides the switch and bulb – you don't want to see the lamps hardware when seated or standing.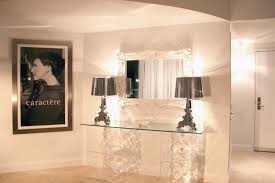 Balance:
- You can use two different lamp bases on the same table as long as you use the same type of shade.
- When placing different lamps on the same table, place the lamps 2-3 feet apart.
- Make sure that the tops of all table lampshades in a room are about the same height so that your eye flows about the room without stopping at a single lamp
- Table shades should never extend past a table's perimeter.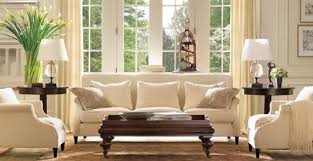 Shade Design:
- Dark shades create ambience and drama
- White and cream shades diffuse light
- Opaque shades give off a soft glow and translucent shades offer more light.
- For traditional décor, pair tapered shades with ceramic bases.
- For contemporary styles, pair drum shaped shades with cylindrical bases.
- Think about pairing a basic base with an embellished or brightly colored shade – or vice versa – a basic shade with an amazing base.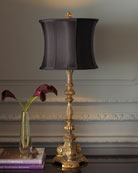 If you are mixing and matching a base with a shade, designers often mimic the shape of the shade with the shape of the base. I.e. a square base with a square shade, a round shade with a round base.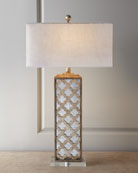 Whatever your style, preference or room design, these basic tips should help you pick out the right task lighting for each area of your home. Have fun, mix and match, let us know your favorite pairings.