Austin Economy
Posted by Gene Arant on Tuesday, May 31, 2016 at 4:34 PM
By Gene Arant / May 31, 2016
Comment
Take a Look at Austin
Whether you live in Austin or are planning to relocate, the economy is strong enough to handle the influx of people moving here. This fast growing metropolis added 43,400 new jobs in the past year.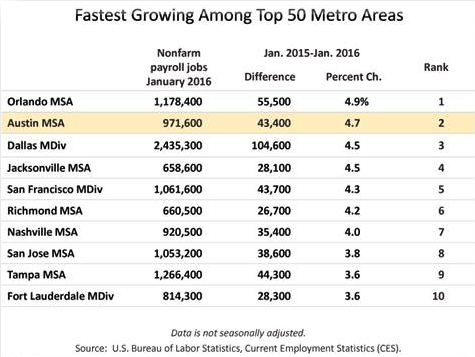 Numbers Surpass Initial Predictions
Austin is officially the second fastest growing city in the United States. Preliminary indicators had suggested that job growth would be approximately 3.3% however; actual numbers were 4.7%, making Austin the second most robust city amongst the 50 largest metro areas. (Dallas ranked third in the U.S.) Texas' other three major metros grew at lesser rates: San Antonio by 2.9%, Forth Worth by .9% and Houston by .6%.
With 41,400 new jobs, the...