Property Tax Event
Posted by Susan Arant on Tuesday, May 10, 2016 at 12:51 PM
By Susan Arant / May 10, 2016
Comment
Are You in the Minority or the Majority?
Did you know that 80% of the people in Travis County do not protest their property taxes? Paying taxes is as American as disputing taxes. In Texas, we do not pay state income tax however we do pay real estate tax. We understand that our taxes support local schools, roads and parks. We are proponents of investing in our community and paying taxes, we just do not want to overpay our taxes.
Did you know that the Travis County portion of your property tax bill represents less than 20 percent of your total tax bill? Do you know what makes up the rest of your tax bill?
Travis County Property Tax Workshop
That and many other questions will be answered at the Travis County Property Tax Workshop. We can help you learn to navigate the process of appeal. Whether you plan to dispute your taxes personally or are looking for the right firm to protest for you, we offer this evening as an information gathering session. Join the 20% of Travis County taxpayers who have adjusted their property tax values.
Five Stone Tax Advisors can answer all your property related tax questions. In fact, the Gene Arant Team is honored to have JP Krueger, the owner of Five Stone Property Tax Advisors, running this workshop. Have questions? There is no one better suited to answer your tax questions than JP.
Schedule
Register here to join us on May 19th, 2016. We are offering four different sessions. Choose the time that best works with your schedule.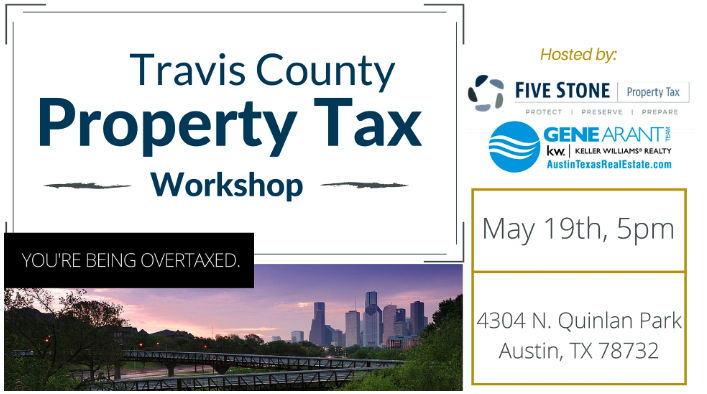 Sessions are offered at:
5:00pm
6:00pm
7:00pm
8:00pm
We look forward to seeing you on the 19th. Join us for an informative evening. The sessions will be held at the Gene Arant Team Real Estate Center, located at 4304 N. Quinlan Park Road, Austin, TX 78732. Want more information? Just give us a call.