Steiner Ranch Post Garage Sale Drop Off
Posted by Susan Arant on Wednesday, April 9, 2014 at 8:31 PM
By Susan Arant / April 9, 2014
Comment
Post Garage Sale Drop-off Supports Canyon Ridge Theater Arts Program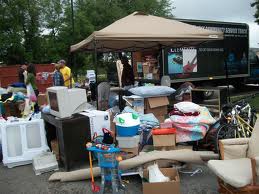 While at the fifth grade orientation the other day, the Canyon Ridge Choirs, Band and Dance Team performed. The amount of talent and dedication these students demonstrated was awe-inspiring; the excitement was infectious and incoming students talked about choosing the program they would join. Then, to learn that the great majority of these students had no previous music experience showed the vast amount of patience and talent the Canyon Ridge teachers possess.
Indeed, our community has a "fine" arts program. In fact, the Fine Arts Program in LISD was one of the first districts to win the "Art Basic" Award from the Texas Commission of the Arts. It has also been recognized as one of the most distinguished programs in the nation. *
We all know that students benefit socially and academically when music and art is an integrated part of their lives. Budget cuts to these programs are challenging our teachers to be more creative with less funding and less time per student. We, as a community, need to ensure that they programs flourish.
What can you do to help? Begin by marking your calendars for Saturday, April 12th from 12:00pm – 2:00pm when The Gene Arant Team hosts a Post Garage Sale Drop-off. Simply load whatever leftovers remain from your garage sale and drive to The Real Estate Welcome Center where CRMS students and members of the Arant Team will await to unload your items and reload to a Goodwill Truck. While Goodwill is also a benefactor of the drop-off, they are no longer able to support a donation back to the school. Instead, the Arant Team will match your donations dollar for dollar – up to $500 - to give back to the Canyon Ridge Theater Arts Program. With one stop, you will be helping two great programs.
RSVP to the event via Facebook at The Gene Arant Team page to ensure we have reserved plenty of truck space. Multiple trucks can be made available. For more information contact the Real Estate Welcome Center at 512.261.1000. Thank you for helping us support The Canyon Ridge Theater Arts program.
*Source - http://www.leanderisd.org/default.aspx?name=dept.fine.arts.main